Choosing your Standing Desk 101
By now you have probably discovered some of the amazing benefits of making the switch to a standing desk, ranging from reduced back pain to improved cardiovascular health. But when the time comes to finally get a standing desk, it's easy to get confused, and maybe even intimidated. Fear not! We're here to simplify the process and help you choose the right standing desk.
The first thing to consider is whether you're looking for a full standing desk or a desk converter. A full standing desk will allow for the most efficient use of your workspace and offer the highest level of customization. Desktop converters (also known as a sit-stand workstation), meanwhile, are designed to sit on top of your existing desk and serve as a rising extension. These can be a considerable option if you're on a budget and want to keep your existing desk. If your budget permits, we always recommend our customers go with a full standing desk for its functionality and ergonomics. To help you decide, let's start with some quick Pros and Cons:

PROS:
● Elegant design
● Efficient use of workspace
● Better overall stability
● High level of personalization
CONS:
● Inability to reuse existing desk
● Pricey when fully loaded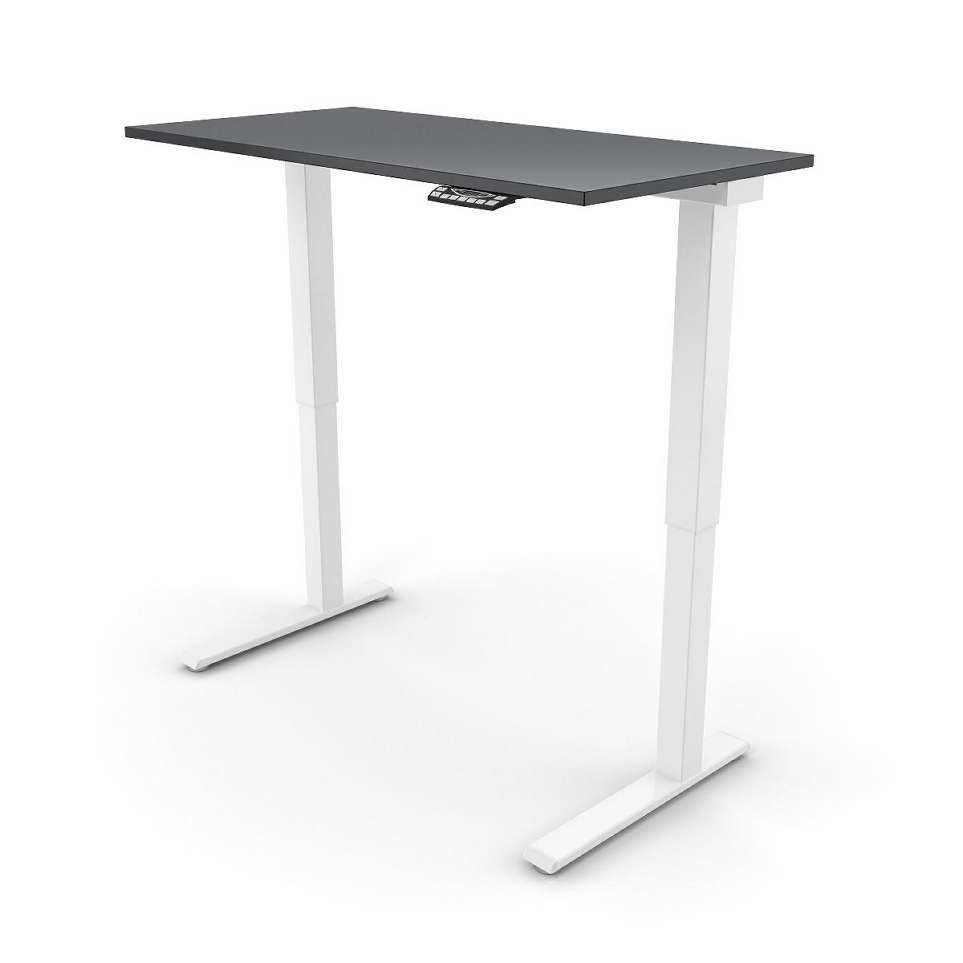 PROS:
● Keep your existing desk
● Affordable
● Easy to install (Pop-Up style)

CONS:
● Require mounting
● Limited monitor support
● Inefficient use of workspace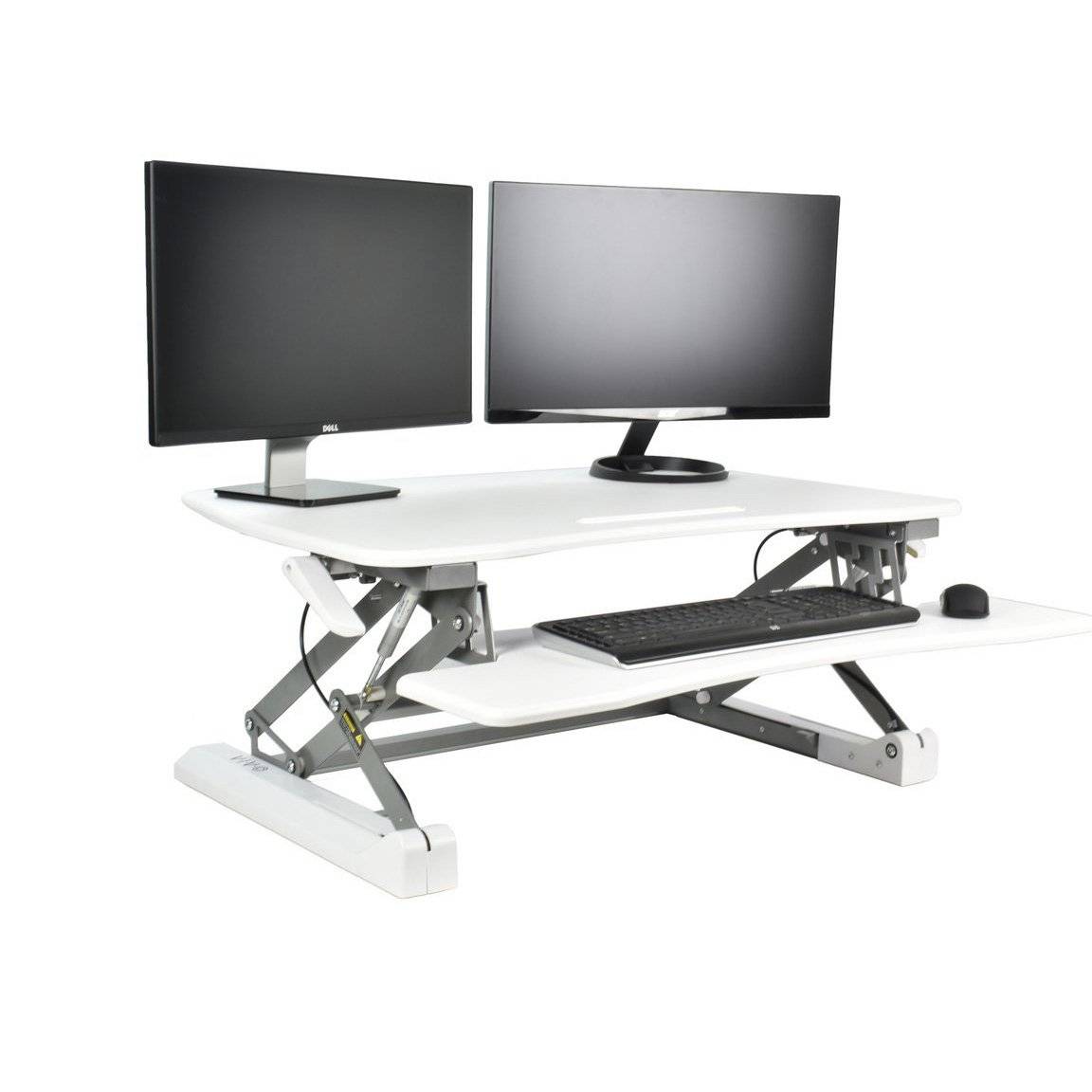 Choosing a Full Standing Desk:
When selecting a standing desk, consider these factors: type, size, finish and features.
Standing desks break up into variety of types based on the
rising mechanism
, such as electric, pneumatic and manual-crank.
●
Electric desk
s
the most popular and the one we recommend most. It allows for easy one-click height adjustment as well as memory presets. These do require to be plugged into a power outlet, so if that is not an option, pneumatic and manual crank desks are your next choice.
●
Pneumatic des
ks
use a counterbalance mechanism that is operated by releasing a lever that easily moves the desk up or down.
●
Manual crank desks,
as the name implies, require manual cranking of the knob. These are your most budget friendly option.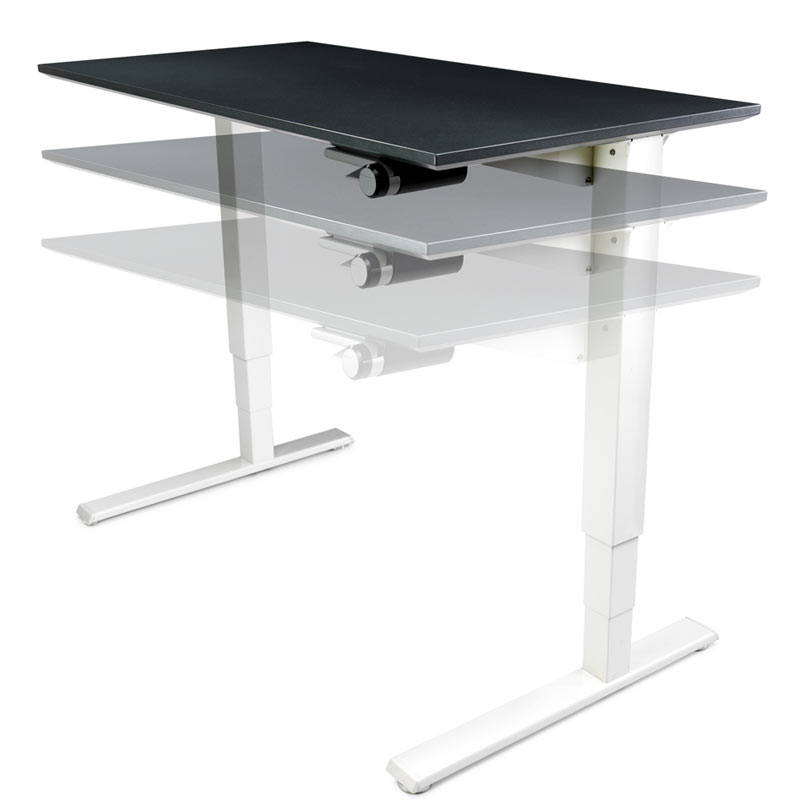 SIZE

Size matters! Be sure to measure your working area (width and depth) before making a purchase. Typically, desktops range from
four to six feet in width
(48", 60" and 72") and two to three feet in depth (24", 30" and 36"). Some brands also offer
L-shaped or corner desks
as well as sit-stand
conference tables
. These can be a great way to make use of that corner office space and have more productive meetings.
FINISH
Desktop and base colors/finishes are totally up to personal preference. These vary depending on the brand, but generally include several solid colors as well as wood veneer options. Materials used usually influence the price of the desk - so, choose whichever fits your budget here.
FEATURES
Some standing desks come with additional features such as keyboard trays, cable management, power strips and more. Wire and power management systems are useful because they allow cables to be neatly tucked away. Some brands offer USB and network connection docks to easily allow connecting computers and various peripheral devices. Again, see what options fit your budget and needs.
Lastly, we highly recommend personalizing your desk with a set of quality
monitor arms
to allow for full ergonomics and flexibility. Humanscale makes some of our favorite
monitor arms.
Choosing a Desk Converter:
So you've decided to keep your existing desk and go with a desk converter. Prior to purchasing, be sure to assess your desk space, monitor count and desired height, as these will come into play when picking the right converter. Desk converters break up into three main styles: pop-up, column and arm. Let's look at some things to consider for each of the types.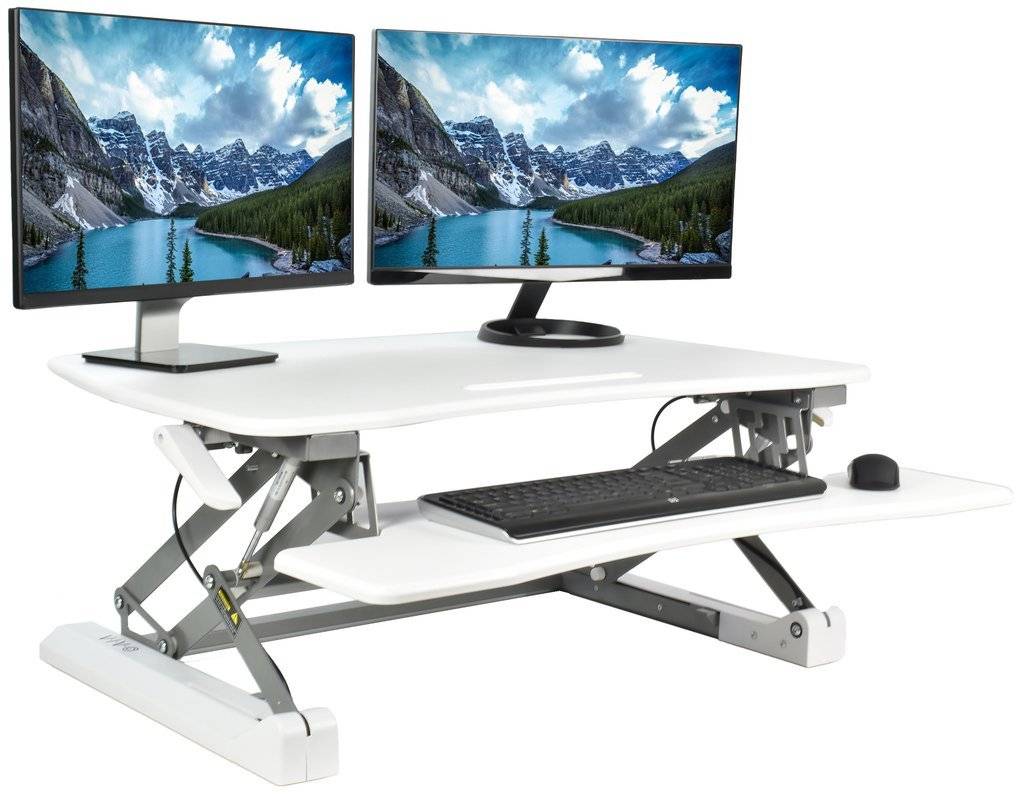 POP-UP STYLE

Pop-up style converter is the most affordable of the three. It sits on top of your existing desk and does not require mounting, making it the easiest to start using. Your monitors will simply stand on top of the converter (no mounting required). When selecting this type of converter, it's important to measure the width of your monitor stands arranged side-by-side to make sure your desk converter is wide enough to support them (36"+ wide for dual monitors).

COLUMN STYLE
Column style converters attach to the top of your existing desk using a clamp. Your monitors are then attached via a dedicated VESA mount. This allows both the monitor and keyboard to effortlessly slide up and down to the desired height using pneumatic or electric mechanism. Column style offers a sturdy and elegant design but is limited to only vertical travel and does come at a higher price point than the pop-up riser.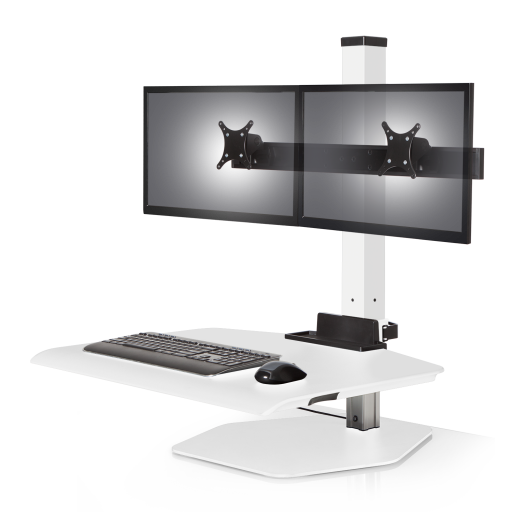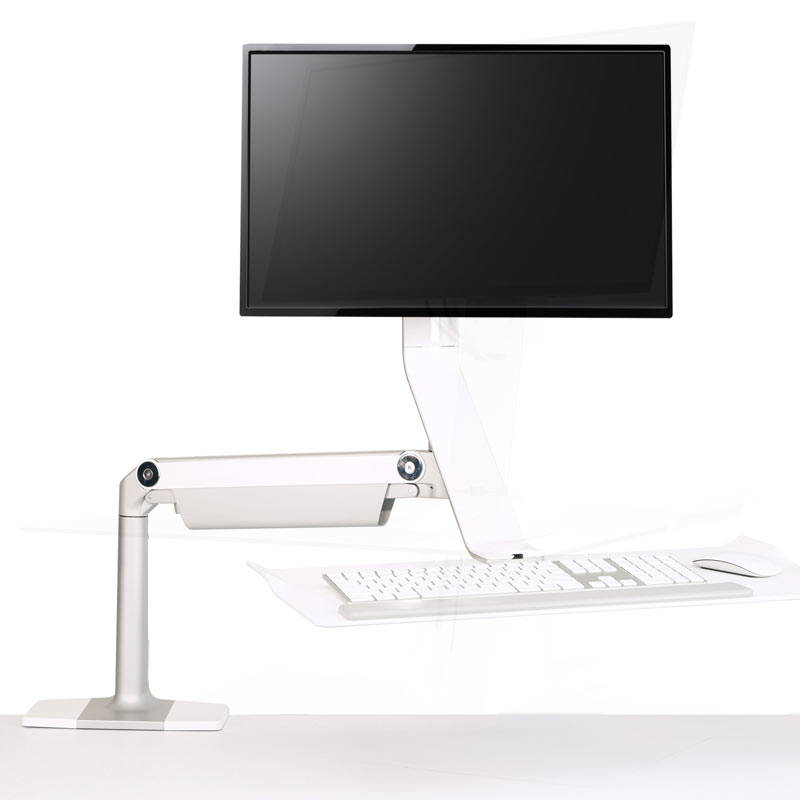 ARM STYLE
Similar to the column style, Arm style converters are mounted to top of your existing desk. Of the three, these offer by far the most flexibility and freedom. One thing to keep in mind, like the column style converters, these also come with a dedicated number of monitor mounts (single, dual, triple, etc.). So, be sure to select one according to your desired monitor setup.

Lastly, when it comes to choosing the right brand, it can become confusing. There are quite a few high quality standing desk and converter brands out there today and each one usually has a specific focus (luxury, value, fitness, etc.). Here's some of our favorites: iMovR, Humanscale, Focal Upright and Loctek.
Whichever desk you decide to go with, you will be step a closer to a healthy and productive work life. As always, if you have any questions or need more guidance on selecting your new standing desk, don't hesitate to contact us. Our team is here to help, as we proudly stand behind our desks!